ROCCO Approved Best Leather Dog Leash
We Review the Best Leather Dog Leashes with Tops picks and Rocco's #1
When it comes to finding the best leather dog leash, there are a few things you need to keep in mind. First, it's important to find a leash that is made of top quality materials. This will ensure that your dog is comfortable while wearing it and that it will last for a long time. Second, you need to find a leash that is the right size for your dog. If the leash is too big, your dog may be able to slip out of it easily. And if it's too small, your dog may be uncomfortable or even choke. Finally, you need to find a leash that allows you some control over your dog without being too forceful. A good leather leash should allow you to gently control your dog without causing any pain or discomfort. With these things in mind, take a look at our list of the best leather dog leashes and find the perfect one for your pooch.
As a dog owner, you know that having a leash is essential when you take your furry friend out for a walk. There are many different types of leashes on the market, made from a variety of materials like nylon, rope, and leather. Leather leashes are a popular choice for many dog owners because they are durable and look stylish. However, with so many leather leashes to choose from, it can be hard to know which one is best for your dog. In this review, we will list the best leather dog leashes on the market, so you can find the perfect one for your pooch. We will also discuss the benefits of using a leather leash and provide some tips on how to care for your new leash. By the end of this review, you will be an expert on leather dog leashes and be able to choose the best one for your beloved pet.
Check out our buyer's guide below for more informatiom on picking the best leather dog leashe for your best friend.
Rocco was bred to be a police dog.  He was a high energy puppy and still loves to run.  He's calmed down a bit but we still had to get him a high quality leather dog leash.  He would chew through normal leashes.  His #1 pick is the leash we use on his daily walks.
Logical Leather Dog Leash - Rocco's Best Choice
Why Rocco Likes this leather dog leash as his top pick?
All Natural Full Grain Leather Training Leashes
The Logical Choice for Your Training Needs
For generations, trainers have relied on the durable dependability of leather training leads. Leather leashes provide immediate feedback for both the trainer and the student – strong enough to control very large animals, yet light enough not to be a burden for small ones. Logical Leather training leashes deliver for you and your canine pals with premium quality leather and reliable solid brass hardware. Available in 11 colors, treat you and your pet to the trainer's choice.  This leash has the power to hold back even great danes!
GENUINE FULL GRAIN LEATHER LEASH for a lifetime of heavy duty use. Made from a single long piece of beautiful premium grade leather to last even through extreme conditions – Six feet long, 5/8 inch wide and 1/8 in. thick.
PREMIUM NICKEL PLATED SOLID BRASS CLASP clips on and off the collar easily yet won't disengage without release by the trainer.
PROFESSIONAL GRADE – Police and Military gauge training weight handles even the strongest working and service dogs. INDEPENDENTLY TESTED to OVER 245 lbs of Pulling Force. 6 foot length recommended by trainers worldwide.
BEAUTIFUL, STRONG AND DURABLE – Requires minimal care, yet feels supple and won't tear at your hands or collect hair like nylon leashes when training, walking or running with your pet.
BEST LIFETIME GUARANTEE – If, for whatever reason, you don't absolutely Love your Leather Training Lead, just return it, and we'll refund every penny (or replace it, if there is a problem).
Genuine Full Grain Leather
Logical Leather leashes are handcrafted from a single piece of all natural full grain genuine leather, for a strong, beautiful lead that is easy to use and clean.
Trainer Recommended
Leather training leads give you complete control of your dog with immediate feedback for both the canine and human trainer without endangering either partner.  Great leash for dog training.
This is Rocco's leash he uses every days!  Great for everyday use.
FAIRWIN Leather Dog Leash - Dog Trainer Approved
Why Rocco Likes this leather dog leash?
We insist Italian full grain cow leather as the raw material of manufacturing each handmade leash. Since we are seriously selective about the thickness and durability of leather, only well-nourished cows, which are fed scientifically in a natural environment deserve us to choose for making leashes for you. This type of leather is specially fine and smooth on its surface after being processed by perfect oiling, and also barely has scratches on it, that's why our leather leashes always outperforms other brands. Each of leashes has all been polished and then meticulously from the bottom of our hearts, just for ensuring your happiness when you walk your dogs. Great for dog training.
M:5/8″x5.6ft-REAL GENUINE LEATHER dog training leash is real Italian imported leather, assembled and accomplished in China. Has the original authentic flavor and modern fashion style. handmade, tensile resistance is strong, durable.

METAL CLIPS Using pure copper alloy casting, the high quality plating process, outstanding clip appearance, simple and practical, strong tensile resistance can carry 500 Lb pull force, it is easy to tie on the dog collars or chest straps.

MILITARY GRADE TRAINING Law enforcement and military grade of professional training. Suitable for medium dogs such as Dachshund, Welsh corgi pembroke, Beagle, Shetland Sheepdog.(Please select the suitable size according to the size chart on page A +)

CONVENIENT AND COMFORTABLE 5.6ft length let you and your dog in your backyard or walking down the street has become more relaxed, can better control the dog's behavior.

Warranties service, If you have any problem of these dog leashes, don't hesitate to contact with us. We promise to provide you satisfaction guarantee. Please avoid your dogs chewing the leash.
Soft Touch Collars - Leather Braided Dog Leash
Why Rocco Likes this leather dog leash?
✓ SIZE INFORMATION: 6 ft Long by 3/4 Inch wide
Tired of replacing cheap dog leashes? Why not buy a leash thats not only beautiful but made to last for years to come.
Our leashes and collars are made with only the highest quality full grain genuine leather available. The hide is naturally tanned up to 40 days using ingredients derived from raw materials from nature. The natural materials used for tanning come from different parts of plants, woods, leaves, fruit and tree bark. This gives the leather a warm, rich natural brown tone. It's important to us to only use high quality naturally tanned leather that is gentle on your dog's skin and gentle on the environment.
OTHER ADDED BENEFITS:
✓ At 6 ft. long and 3/4 inch wide this size is the perfect length for walking or training your dog. Professional dog trainers recommend a 6 foot leather leash.
✓ Naturally tanned – NO HARSH CHEMICALS OR DYES ARE USED. It's not the cheapest way, but we believe your dog, quality and environment are worth it.
✓ Sometimes leather can be rough on your hands. We designed our leash with a super soft padded handle. This helps when you have a dog that likes to pull on walks.
✓ Super stylish with two braids on both ends of leash. Two toned with a warm brown and cream padded handle. Also has a nice black trim that highlights the leash beautifully.
✓ Every leash is braided by hand to offer superior strength and durability. This heavy duty leash will also handle the weight of any size dog and handmade with attention to every detail. This type of leather will only get better as time goes on.
✓ The brass hardware is lacquered to prevent rust.
LEATHERBERG Leather Dog Training Leash
Why Rocco Likes this leather dog leash?
Leatherberg leather leashes come to the rescue!
"Omg !! I love it ! – Jennifer
"Good quality product and excellent service." – Jill
"Love these leather dog leashes. High quality. You can't beat a good leather leash for dog and you can't beat Leatherberg ." – Samuel
Are you sick of poor quality leather dog leashes that did hurt your hand when your dog pulled hard?
Do you fear your strong dog breaking the hook and escaping?
Have you wasted money on dog leashes that did smell so bad you had to leave them outside?
We present to you the easiest way to solve your problem! Unique Leatherberg Leather Dog Leashes.
Thanks to Leatherberg 6 foot leash you and your dog are protected and kept safe when your dog pulls really hard.
Made of 100% real Latigo leather, stronger and more durable than cheaper type of leather available on the market. Our 6 ft leather dog leash features strong double stitching with 1metal rivet on each end, bonus, when other challenges come your way.
The premium quality snap hook with a long lasting functional string will keep your dog leashed. Finally you can enjoy PAIN – FREE walking, thanks to Leatherberg finely beveled edges.
Like having a little space between you and your dog? How about six feet of space? Now your dog has room to roam without you losing control.
Here's what you get:
1. The top quality leather dog leash
2. Leatherberg classy package box – a perfect GIFT for a dog owner in your life
3. Do you love leather? Now you can enjoy the delicious scent of fine 100% real leather with the peace of mind
Viper Biothane K9 Working Dog Leash
Why Rocco Likes this leather dog leash?
Our Biothane Working Lead is created from a high-quality Biothane waterproof coated webbing. A trusted name in national sports leagues as well as international military and space organizations, Biothane has a flexible substrate core that is bonded with a durable waterproof coating for protection. It is durable, cleanable, and has proven durability in applications where safety, cleanability, flexibility, and strength are crucial.
Lead with purpose with the Viper Biothane Dog Leash. This robust webbed dog lead is specially coated to emerge from even the swampiest environments, dry and smell-free, without loss of flexibility. !!! NOT TO BE USED FOR TIE OUT !!!
Excellent performance: our Biothane dog leash boasts a flexible substrate core bonded with a waterproof coating, perfect for environs where strength and cleanliness are crucial. It will not get stiff during extreme cold and will not melt during extreme heat. Super Heavy Biothane webbing has up to 750 lbs of breaking strength.
More durable than leather dog leashes, the Biothane dog leash boasts a flexible substrate core bonded with a waterproof coating, perfect for environs where strength and cleanliness are crucial.
Solid brass hardware is ideal for working dogs in law enforcement or military operations. Will not rust.
Made in the USA from the highest quality materials, our Biothane Dog Leads come in 9 different colors, 4 width and 4 different length, ensuring that there is a suitable lead for any dog and every task.
PLUTUS PET Dog Leash 6ft Long
Why Rocco Likes this leather dog leash?
Are you concerned about your dog's safety when you're out?
Are you need a better control leash for busy sidewalks?
Stop searching, we have what you need: Plutus Pet Double Handle Dog Leash.
Our dog leash features 2 handles, one at the end of the leash at 6ft and another at 1ft from the clip. The longer one is perfect for casual walks, extended sniffing and loose leash walking, and the shorter one is great for busy sidewalks, bike paths and crowded areas that requires you having instant, up-close control of your dog. Can be used as a training aid to control Dominance and Aggression.
The leash has two fully-padded neoprene handles, which are much more comfortable than normal leash handles and will prevent redness, chafing, or blistering on your hands.
The entire leash is stitched on both sides with reflective 2mm wide stitching to increase your visibility at night and ensure safety for you and your dog.
WHY YOU'LL LOVE IT!
Great control of your dog in both busy and less crowded areas

Extra padding on handles for comfort

Reflective stitching for safety in the dark

Maximum toughness, 2.8mm thick and 1" wide with tightly webbed nylon

durable clasp that can ratate 360 degree for tangle free

D-ring for attachment of a poop bag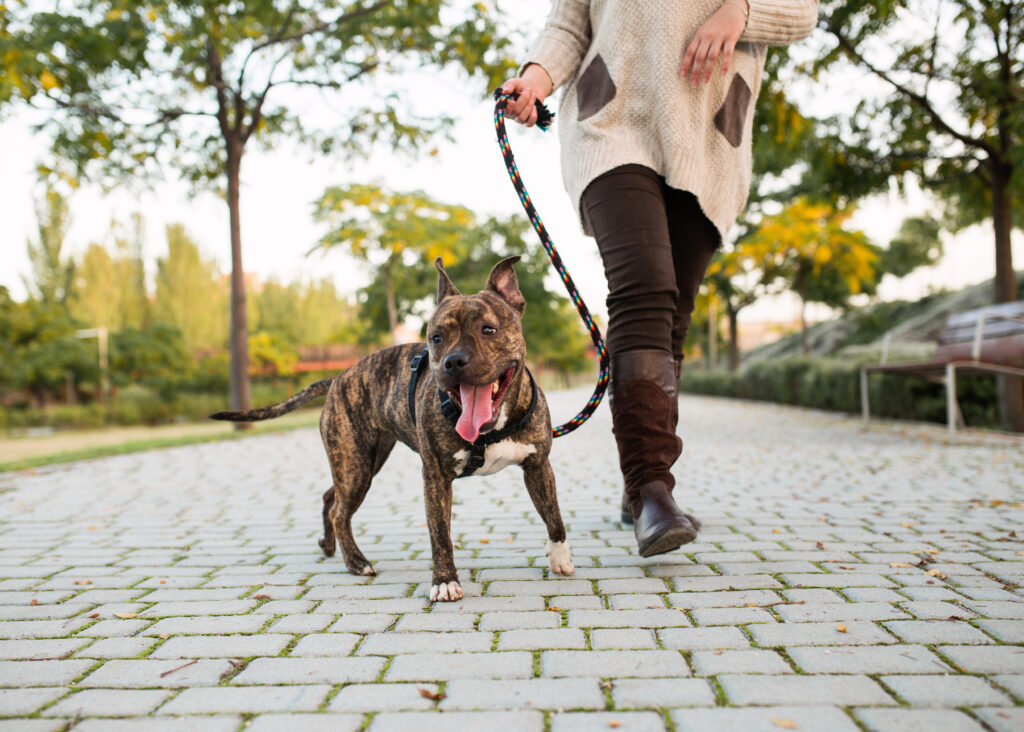 How do I choose the best dog leash?
Length
There is no universal agreed-upon perfect length for a lead, it is up to the owners to decide what is appropriate. Leads typically come in 4 lengths; 6 feet, 4 feet, 8-10 feet, and long line.
Six feet is the most common length for a lead and is ideal for walking dogs around quieter areas like neighborhoods. Shorter lengths are ideal for busy places like streets with lots of traffic, and longer leads are good for training purposes, big outdoor spaces, and dogs that just need more space.
The length of your dog's lead is important because it determines how far away from you they can get. Young puppies, for example, shouldn't be given a long lead with too much length as they could easily jump into harm's way. However, a lead also shouldn't be so short that it will restrict the dog too much. The best leash for dogs is typically made of leather and is between six and eight feet long. This gives the dog enough space to explore without getting too far away from their owner. It is also important to get a top quality leash that won't break or wear down easily with use. A quality leash will make walks
Quality
If you have a dog, then you know that one of the best ways to ensure their safety is to keep them on a leash. A leash gives you control over your dog and helps to prevent them from running into traffic or getting lost. However, not all leashes are created equal. The quality of the leather is important for durability and longevity, especially if your dog is prone to pulling. The handle should be soft and comfortable to hold, with high traction for a strong grip. For the best results, buy from a trusted pet brand or look for products with good reviews online. By taking the time to find a high-quality leash, you can help keep your dog safe and secure on walks and adventures.
Design
Leashes are one of the most important tools for dog owners. Not only do they keep dogs safe, but they also provide a way to train puppies and keep adult dogs under control. There are many different types of leads available on the market, so it's important to choose the one that best suits your needs. Shorter training leads are good for untrained puppies, while standard leads are best for adults and older dogs. If you have a dog that needs extra space to run around, a retractable lead may be best for you. When it comes to material, leather leads tend to be more luxurious than standard dog leads. However, there are plenty of high-quality options available in both materials. Ultimately, the best lead for your dog is the one that suits their needs and your lifestyle.
What To Look For While Buying A Leather Leash?
When it comes to finding the best leather leash for your dog, there are a few things you need to take into consideration. First, determine the pull force of the leash. If you have a heavy dog that pulls a lot when you leash them, you want a leash that can absorb some of the pull force and make it easier for you to control them. Heavy-duty and sturdy leather leashes that have a military-grade built are perfect for a stronger pull force.
Leashes also come in various lengths and neck sizes. According to your dog's neck size and a leash length that suits you best, you can make a purchase. Many dog parents purchase short leashes like the 12-inch one recommended above and also the longer 4ft or 6ft ones for different purposes. When it comes to finding a quality leash, leashes that come with a warranty of more than a year are much more trustworthy. With all of these factors in mind, finding the best leather leash for your dog is easy!