Best Dog Treats for Sensitive Stomachs
The Best Dog Treats for Sensitive Stomachs
Dogs can develop a sensitive stomach for many reasons. Maybe they are eating something that doesn't agree with them, or maybe they are struggling with an underlying health condition. Don't worry, Rocco reviews the best dog treats for sensitive stomachs below.
In this post, we will discuss Rocco's picks of the best dog treats for sensitive stomachs.
For some of our furry friends, mealtime sadly isn't as exciting as it should be. Immediately after scarfing down a meal, upset stomach, vomiting, and diarrhea occur.
This leaves many pet parents wondering if their sensitive dogs can still have their favorite dog treat, or if they can have a dog treat at all. Luckily, the short answer is – yes, they can!
So, what are the best treats for dogs with sensitive stomachs?
If your best friend has a upset stomach, you've probably realized that it's hard to find the right treats.
We're here to help you stop scanning every treat label — these dog treats are made with non-irritating ingredients.
You could also try the all natural dog jerky treats.  These treats are top picks for all dog breeds.
Just like in humans, dogs too can get what we call a "sensitive stomach" when certain foods don't agree with them.
You know your pooch best, so you've probably already know which foods go down a treat and which do not. The term "sensitive stomach" is a non-medical way to describe a tummy that is easily upset.  That doesn't mean your dog can't have any dog treats.  We tried some good treats to help with dog's food sensitivities.  Most are gluten free, grain free and all natural.
What Causes Sensitive Stomachs in Dogs?
Overeating
Most dog breeds eat too much food at once, it can cause them to feel sick. This is because when dogs overeat, their stomachs become overloaded and they can't digest all the food properly which causes an upset stomach. Over time, this can cause dogs to develop a sensitive stomach.
Allergies
Dogs can also develop a sensitive stomach as a result of food allergies. If your dog is allergic to a certain ingredient in their food, it can cause them to have digestive issues. For instance, if a dog is allergic to chicken, it might start vomiting or have diarrhea after eating chicken-based treats.
Stress
Stress can also lead to a dog developing a sensitive stomach. When dogs are stressed, their digestive system can become overwhelmed and this can lead to problems digesting food. Emotional stress can also lead to dogs developing food allergies.
Dogs with sensitive stomachs can have treats too — Avoid treats with fillers, raw ingredients, and artificial flavoring.

If your dog has an upset tummy, it might be a sign of an underlying illness — Allergies, autoimmune diseases, and IBS can all cause upset stomachs in a dog's digestive system.

There are ways to determine your dog's food sensitivities — Speak to your vet when in doubt about what to feed your pup and ask him about your dog's digestive system.
Here Are the Best Dog Treats for Sensitive Stomachs:
Rocco loves his jerky treats so this was a tough decision for him to make. Below are the top treats he just cant resist.
TummyWorks Probiotic Chews for Dogs
Why Rocco Likes these treats?
If you're looking for a probiotic chew that can help your dog's stomach work as it should, TummyWorks Probiotic Chews for Dogs are a great choice.
These chicken-flavored chews are formulated to extract more energy and nutrients from your pet's food, improving their health and happiness. In addition, the probiotics in these chews can help protect your pet against germs and disease.
They also restore gut health following antibiotic use and prevent food allergies. Best of all, these chews are made in the USA with no additives or preservatives.
And if you're not satisfied with the results within 30 days, you can get your money back guaranteed.
TummyWorks Probiotic Chews for Dogs are the perfect way to help your furry friend feel their best!
These chicken-flavored chews are packed with probiotics that help to optimizes digestive health, improve nutrient absorption, and boost immunity.
They also aid in the relief of allergies, hot spots, diarrhea, yeast infections, itching, gas, bad breath, scratching, bloating, and constipation.
Best of all, they're made in the USA with no artificial additives or preservatives. Give your dog the gift of gut health with TummyWorks Probiotic Chews for Dogs!
Hill's Science Diet Dry Dog Food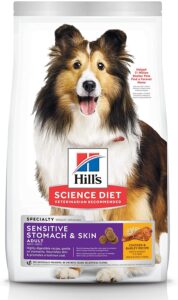 If you're looking for a food that will promote healthy living in your grown dog, this is the food for you.
It's packed with nutrients that are essential for digestive health, skin nourishment, and balanced gut microbiome.
Plus, it's highly digestible for your dog's stomach and contains prebiotic fiber to support a healthy gut.
And if that's not enough, it's also a good source of vitamin E and omega-6 fatty acids to help your grown dog get a lustrous coat and healthy skin. Made in the USA with global ingredients you can trust, this food is veterinarian recommended.
So why wait?
Give your grown dog the nutrition they need to live a long and healthy life.
We've all been there. You wake up in the morning, ready to take on the day… only to be met with an unpleasant surprise. Your dog has given you the 'look'. You know the one.
The look that says 'I'm not feeling so good this morning'. It can ruin your whole day. And let's be honest, it's not like you don't have enough to deal with already.
But never fear! This new food from Hill's Science Diet will have your furry friend feeling better in no time.
Not only will it help to settle their stomach, but it will also give their coat a healthy shine. So why not give it a try? It might just be the best decision you ever make.
Cloud Star Dynamo Dog Tummy Treats
Why Rocco Likes these treats:
As a pet owner, I am always looking for ways to promote my dog's health and well-being.
When I came across Cloud Star Dynamo Dog Tummy Treats, I was intrigued by the claims of supporting healthy digestion.
I decided to give them a try, and I'm glad I did!
These chewy dog treats are soft and chewy, and my dog loves them. They are also grain free and gluten free , which is important to me as a pet owner.
Plus, they are made in the USA! After feeding my dog these treats for several weeks, I have noticed an improvement in his overall health.
His coat is shinier and he doesn't seem to be as prone to getting sick. I will definitely be buying these treats again!
These Grain Free Probiotic Soft Dog Treats are the perfect way to show your furry friend some love.
Made in the USA with only the finest ingredients, these treats include gentle fibers from pumpkin to support good digestion along with ginger.
They're also grain free and are gluten free, so you can rest assured that your pup is getting only the best.
And because they're soft and easy to chew, they're perfect for older pups who may have trouble with harder treats. Order now and give your furry friend the digestive support they need and deserve. 
They pride themselves on offering gluten free and grain free treats.  Rocco liked them a lot.
Benefit Biscuits, All Natural Dog Treats, Certified Vegan
Why Rocco Likes these treats:
At Veterans Farms, we understand that your dog is more than just a pet – they're a part of the family.
That's why we only use premium, sourced ingredients in our treats, so you can feel confident that you're giving your furry friend the best.
Our mint treats are packed with vitamins A, B12, and C, and are naturally proven to clean your pup's breath.
Our pumpkin dog treats are rich in omegas, antioxidants, and dietary fibers, which are known to support your dog's digestion, skin, coat, and immune system.
And our peanut butter biscuits are made with natural healthy fats, vitamin B, niacin, vitamin E, and protein – everything your dog needs to thrive.
So go ahead and treat your furry friend – they deserve it!
That's why we started Benefit Pet, to turn dog treats into something more–a locally sourced nutritional supplement made from real food.
Our Maker in the Pacific Northwest crafts our biscuits using only non-GMO, plant-based, all-natural ingredients.
They're free of wheat, corn, soy, artificial preservatives and made with real, locally sourced foods.
We add peanut butter so dogs can properly digest the plants we use in our biscuits and get all the benefits from them.
And because we want to use as few ingredients as possible in our treats, Benefit Biscuits are a great snack for elderly dogs, nursing mothers, puppies, finicky eaters, dogs with sensitive diets…really, all dogs!
Choose from five different treat flavors packed with real benefits for your furry friend.
Bernie's Perfect Poop Digestion & Health Supplement for Dogs
Why Rocco Likes these treats:
Pets are like family, so when they're not feeling their best, it's tough on everyone.
Luckily, there's a simple solution that can help your furry friend feel their best: Bernie's dog treats for sensitive stomachs.
This complete 4-in-1 formula combines premium fibers, prebiotics, probiotics and enzymes to supercharge your pet's digestive system.
The result is a healthy gut that can help alleviate common pet concerns like diarrhea, constipation, bloating, food intolerance and more.
In addition to promoting gut health, high fiber grass bits can also bolster your dog's immune system and increase the absorption of nutrients and vitamins.
So why wait? Give your pet the gift of good health today with high fiber grass bits.
If you're looking for a probiotic supplement for your dog that will help with GI issues, this is a great option.
The Bacillus Subtilis and Bacillus Coagulans strains are hardy and can withstand the harsh acids of your dog's stomach.
There are 1 Billion Colony Forming Units (CFUs) per Tablespoon of Perfect Poop, so you can adjust the dosage to meet your dog's needs.
I've found that it's helped my dog with soft stools and I'm confident that it will help other dogs with similar issues.
Buyer's Guide – How to Pick the Best Dog Treats for Sensitive Stomachs
The best treats for dogs with sensitive stomachs have one or more of these qualities
Limited ingredients

They are highly digestible

They boost digestive health

No common allergens
In addition, these treats should be tasty to entice your pup to give them a try.
Ingredients to Avoid in Dog Treats
Some dogs might not be allowed to eat certain meats or different types of proteins. If it seems that your dog has a sensitive stomach, you should take them to the vet to see if they have any allergies. This can make a huge difference in your dog's life, comfort-wise. Your vet will be able to set up a diet that is perfect for your pup and tell you what treats to avoid.
There are a variety of ingredients you should try to avoid in your dog's treats:
Garlic

Onion

Pork

Dyes

Chemicals and preservatives

Wheat
What food is easiest for dogs to digest?
Because your dog's diet should be 18% to 25% protein, finding a highly digestible protein source is paramount.
For dogs, muscle meats are the most digestible types of meat.
Each muscle meat is about 92% digestible, and chicken, beef, and lamb are the best types.
Similarly, organ meats like kidneys, liver, and heart are about 90% digestible. Fish is less digestible at about 75%. Egg, too, is super digestible for dogs. 
We've looked at all the best dog treats for sensitive stomachs with these types of ingredients.
What Treats Are OK For Dogs With Pancreatitis?
Treats that are low in fat and high in protein are usually the best option for dogs with pancreatitis. Avoid treats that are high in sugar and artificial additives, as these can aggravate the condition and make it worse.
Can I give my dog anything to settle his stomach?
After a bout of vomiting or diarrhea, the best way to settle your dog's stomach is to introduce a bland diet.
A blind diet contains foods that are easy to digest and soothing to the digestive system.
For dogs, the best bland diets include one protein source and one starch source.
Your dog's digestive system will appreciate boiled lean meats such as chicken, turkey, or hamburger.
Pair this with a starch like cooked white rice or sweet potato, and you've got yourself a highly digestible meal for your pup.
Start introducing the diet in small amounts – if there is no vomiting after a few hours, you can offer some more.
What do vets recommend for dogs with sensitive stomachs?
Dogs are unique creatures, and each one has their own individual personality, preferences, and needs.
When it comes to their diet, what may work for one dog may not be suitable for another.
If your dog has a sensitive stomach, it's important to talk to your veterinarian about the best dog treat and feeding schedule for them.
In general, dogs with sensitive stomachs should eat a well-balanced diet that is easy to digest, help keep their stress levels low, and drink plenty of water.
Ice cubes can be a great trick if your dog doesn't want to eat or drink! Some dogs may also benefit from a dog treat that are made specifically for dogs with sensitivities or food allergies.
If you're unsure about what kind of food or a dog treat are right for your dog, always consult with your vet first.