7 Best Dog Clippers for Thick Hair
7 Best Dog Clippers for Thick Hair – Reviews & Top Picks
If you have a dog with seriously thick or matted fur, you won't be able to use just any pair of clippers for grooming. Using cheap or weak clippers on a thick coat is a great way to pull your dog's hair and guarantee they'll never let you cut their hair again.
Instead, you'll need heavy-duty dog clippers for matted or thick coats. In this review, we'll highlight the specs and functions to look for and provide you a few options to get you on your way. to perfect dog grooming. 
Knowing just what you should look for in a clipper is an excellent start, which is why we've put together a buying guide below with everything you need to know. Reading product reviews is another fabulous way to find out what you need to know about a clipper. But there are tons of clippers out there, and you don't have time to read reviews of them all. That's why we're getting you started with reviews of the 7 best dog clippers for thick and matted hair.
Rocco doesn't really have thick hair so we had to get some outside help with some of our friends dogs.  Rocco still got to sniff the clippers and bark at them if they were noisy.
Why Rocco Likes this dog clipper?
ABOUT THIS PRODUCT:
Do you want a clipper that has high clipping for perfect dog grooming? You're in luck because this one happens to have that feature, which can be useful if you want different looks for your thickly-coated dog. For instance, shaving or clipping their tail and ears can be difficult with a single-speed motor, right? All you need to do is to switch it and choose from speeds from 2,500 to 4,500 SPM.  This clipper is the best for dogs with the thickest hair.
We found that it has detachable blades, which can also be helpful if you have other blades at home that you want to use to clip your dog with. Additionally, since it also works with Oster A-5 blades, you can use your old Oster blade (as long as it is still sharp enough) and use it for removing mats on your dog's coat. The detachable blades can truly save time, especially for pet salon owners.
What's more, we also saw that it has a rotary motor clipper, which can run more efficiently than traditional motors. This is because a rotary motor, which is less loud than magnetic motors, can help with dogs that have grooming anxiety.
And that's not all – the included Ceramic Edge #10 blade which can be 75% cooler than steel can prove to be durable and at the same time quite sharp to fight against matted dog hair without actually hurting your dog. Handling the whole unit won't be a fuss due to its anti-slip soft grip housing.
All in all, this heavy-duty clipper is corded so you can get unlimited power. For cleaning it, the package also includes a brush and oil to maintain the blades' sharpness.

Why Rocco Likes this dog clipper?
PRODUCT INFO
The Andis UltraEdge has dependable and long-life blades. The unique hardening process keeps blades sharper for a longer time. The special chrome finish inhibits corrosion which provides cutting solutions that will last for years. It includes size 10 blades that don't rust and provides a professional cutting performance. The blades offer versatility by being detachable and easy to clean. This product is compatible with all UltraEdge, CeramicEdge and ShowEdge blades.
Additionally, this dog clipper has a locking switch to ensure that they will not accidentally shut off. It has a round barrel to suit the preference of a wider grip. It has a super two-speed rotary motor for performance that the top performers demand. Grooming pros love the high and low speeds that make it perfect for complete animal grooming.
Oster Golden A5 Two-Speed
Why Rocco Likes these clippers:
ABOUT THIS PRODUCT:
Lower speed: Of course, competitors can do more SPM than this, but experience has shown that this can be enough for thick coats.
Only one blade: I really like the Oster CryogenX blades, but the package only includes a single blade. You will need to purchase the blades separately to achieve additional sizes.
What Makes This Clipper Stand Out From The Competition?
The powerful motor and sharp blade of the Oster Golden confidently handles dog coat of almost any thickness. However, the real advantage is unbreakable durable housing, which gives absolute security to the users.
Wahl Professional Animal Clipper Kit
Why Rocco Likes these clippers:
ABOUT THIS PRODUCT:
The brushless motor is engineered to last while running cooler, quieter, and providing more power and torque than a rotary motor
Includes a detachable #10 Ultimate Competition Series high-grade steel blade for faster, smoother clipping
Operating at two powerful speeds of 3,000 and 3,700 strokes per minute, the Constant Speed Control feature automatically delivers more power and torque in difficult areas
With a long-lasting brushless motor geared to last more than 10,000 hours, these clippers are top of the line for dogs with long hair. And, they may be the only set you'll ever need to purchase. Unlike some clippers that are made for occasional home grooming, the KM10 is a professional tool and made for regular use. Yet, it still runs quietly.
The professional Ultimate Competition Series #10 steel blade is made for body clipping and trimming of all coat types, including dogs, cats, horses, and livestock. Two powerful speeds and constant speed control help these clippers glide through tough spots while still weighing a lightweight 12.3 ounces.
The KM10 is designed with a rounded front housing to prevent hair clogging and is backed by a 5-year professional warranty. The clipper is made in Hungary, and the blade is made in the USA. It comes with a 14-foot cord for plenty of room to work around your pet and other equipment.
oneisall Dog Clippers for Thick Hairy Coats
Why Rocco Likes these treats:
About this item:
Q&A
Q: Can it be used while charging? Charging time

and working time?

A1: It can be directly connected to the charger

for wired operation,or you can work with cordless.

A2: 3 hours of charging and 4 hours of working.

Q: Will the blade get hot?

A1: After the product has been working for 30 minutes,

the temperature of the cutter head is about 36°C

(96.8°F), and the temperature is within the acceptable

range of somatosensory.

Q: What is the service life of the cutter head?

A1: The life of the blade depends on the frequency of

use and the area of use.
Professional Dog Grooming Clippers for Thick Coats
Why Rocco Likes these clippers:
About this item
Professional Groomers say this Pet & Livestock HQ dog hair clippers & horse shaver system has saved their backs, knees, and arms by shaving hours off of shearing times – even on thick matted fur with large to extra large breed dogs:
Newfoundlands

Australian Shepherds

German Shepherds

Labradors

Golden Retrievers
As well as coarse-haired livestock such as:
Horses

Cattle

Pigs

Bovines

Camels
High-Powered 380 Watt Professional Power For Thick Matted Undercoats
Because of the powerful motor, these clippers are LOUD, however the full aluminum head and copper motor design reduces power-noise from the beefy 380W motor, while the Air-Flow vents lets it safely rev to a full cutting speed without overheating the blades.
The result is a set of dog hair clippers & horse shavers that let you shear through thickly matted undercoats as well as long coarse hair.
No overheating (or nasty burned hair smell)

No bogged-down motor sounds that scare your animals

No binding, jamming, or burning out on thick undercoats

Note: These powerful dog hair clippers are not suited for small dogs. Recommended size is for large to extra large dogs, 25-inches or taller.
neabot P1 Pro Pet Grooming Kit
Why Rocco Likes these clippers:
ABOUT THIS ITEM:
We love our pets, brushing and grooming are the perfect way to keep them healthy and make your pet love you even more, but traditional home grooming tools create a lot of mess and stress, for you and your home.
Neabot P1 Pro is an all-in-one grooming tool kit that is simple to use, effective and affordable. It provides 5 Proven Grooming Tools and collects 99% of pet hair with the vacuum built-in.
No Mess, No Fuss! With the easy-to-use P1 Pro, there's no more tangled hair and no more piles of fur spreading all over the house.
With a sharp stainless steel blade, the trimming tool will easily remove the excess fur that might be making them uncomfortable on hotter days. And of course, the vacuum cleaner tidies as it goes, with nothing to clean up later. The clipper with a vacuum system provides a comfortable haircut for our lovely pets.
Buyer's Guide – A Complete Guide for the Best Dog Clippers for Thick Hair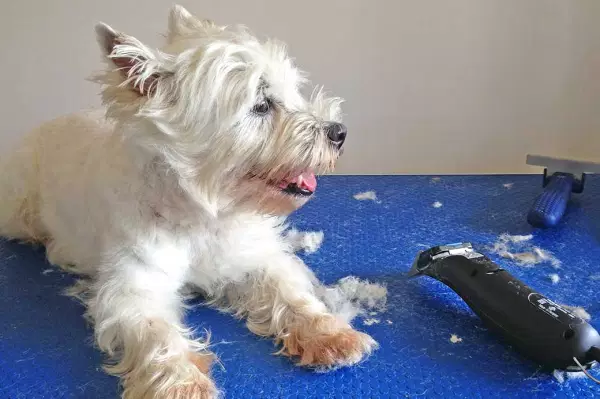 The number of the blade is not the only thing to consider. The cut of the blade is also important, a factor that will best suit the natural shape of your pooch's coat.
Unlike with your own haircut, clipping a dog's hair is always about maintenance, not about making a huge style change. There are three different categories of pet hair clipper blades that should be mentioned, which include:
Wide Clipper Blades (also known as T-blades). These are good for large breeds because the blades and the clippers themselves are larger. The wider the blade, the more hair it takes off with every pass. By using this size for a big dog, you cut down on the time needed to groom him. Likewise, if you have a smaller dog, you will want to use a more narrow set of pet hair clippers.
Finishing Blades. As the name suggests, these are used after bathing to complete the haircut. If you have a dog that has a continuously growing coat, it's important to switch between pet clipper blade types for each grooming session. The type of coat that your dog has will dictate how many clipper blades you will need and which types you will require.
Can I Use Human Clippers On My Dog?
No, human clippers should not be used on dogs. Most dog breeds have fur, not hair. Fur requires sharper clipper blades that human clippers don't have. Human clippers have louder motors that vibrate a lot, this scares dogs.
The benefit of cordless clippers is that you can use them anywhere in your home even if there isn't an outlet nearby. You also don't have to worry about the cord getting in the way when you're trimming hard-to-reach areas like around your dog's ears or paws.
But cordless dog clippers aren't as powerful as corded models, so while they can handle light to medium coats just fine, they aren't always able to cut effectively through coarse, thick fur. You also have to worry about corded clippers running out of power in the middle of a grooming session.
How do I get ready for grooming a dog with a thick coat?
#1 – Brush dog before the bath. Brushing out as much undercoat as possible and combing or cutting out any mats before you wash your dog will make a world of difference in the quality of the haircut.
#2 – Wash your dog with a gentle shampoo formulated for dogs. Some breeds have thick coats that are wiry, such as terriers, which won't benefit from a conditioner. Use your discretion.
#3 – Blow dry your dog. Letting your dog air dry will make your dog's hair even thicker and more difficult to work with. Be careful about using high heat on your dog!
#4 – Brush your dog. You need to make sure your dog is thoroughly brushed before you start using the clippers. Tangles will make the clippers jump around and lead to an uneven haircut.
#5 – Put the blade on the clippers and cut in the direction that your dog's coat grows. Cutting against the grain will lead to a much shorter cut and can be uncomfortable for your dog.
#6 – Take your time, give your dog lots of praise and treats if necessary, and give him breaks if he becomes irritable.
Tips on Choosing the Right Set of Pet Clippers
As for the actual make of dog clippers, check to see that you don't have to do a lot of internal maintenance (oiling the parts, taking it apart, cleaning stuck hair and so on). If you're only going to be using clippers once every month or so, you don't want to sink large amounts of your time into rebuilding and re-configuring the clippers for your dog every single time, which is what tends to happen with cheap China made clippers.
If you're new to at-home grooming or have an anxious dog, it's a good idea to opt for clippers that include snap-on combs. Clippers usually come with multiple combs that allow you to cut your dog's hair to different lengths, but all combs are designed to keep the blades away from sensitive areas where your dog is likely to experience irritation or pain if you're too aggressive.