Best Tennis Balls for Dogs
Even Rocco can't destroy the last pick of the best tennis balls for dogs
They are the perfect size for throwing. I would go so far as to say that tennis balls are one of the most popular dog toys around. However, it might surprise you to learn that your dog's favorite play toy could be harmful to his health.
Tennis balls are typically made of two different types of material – a soft outer layer and a hard inner core. The soft outer layer is usually made of felt or synthetic fibers, while the inner core is typically made of rubber. While this construction makes tennis balls durable and bouncy, it also makes them susceptible to breaking down over time. As the tennis ball breaks down, small pieces of the synthetic fibers and rubber can come loose and be ingested by your dog. In some cases, these pieces can even cause blockages in your dog's digestive system.
So, what's the solution? There are a few different companies that make tennis balls specifically for dogs. We review them below.  Please check out the last one!
Rocco would eat tennis balls in about 5-10 minutes so we had to find some pretty non-destructible ones.  The first one on the list of our reviews seems to last the longest.  Our last pick is so large he can't even destroy it if he tried!
Chuckit! Ultra Ball Dog Toy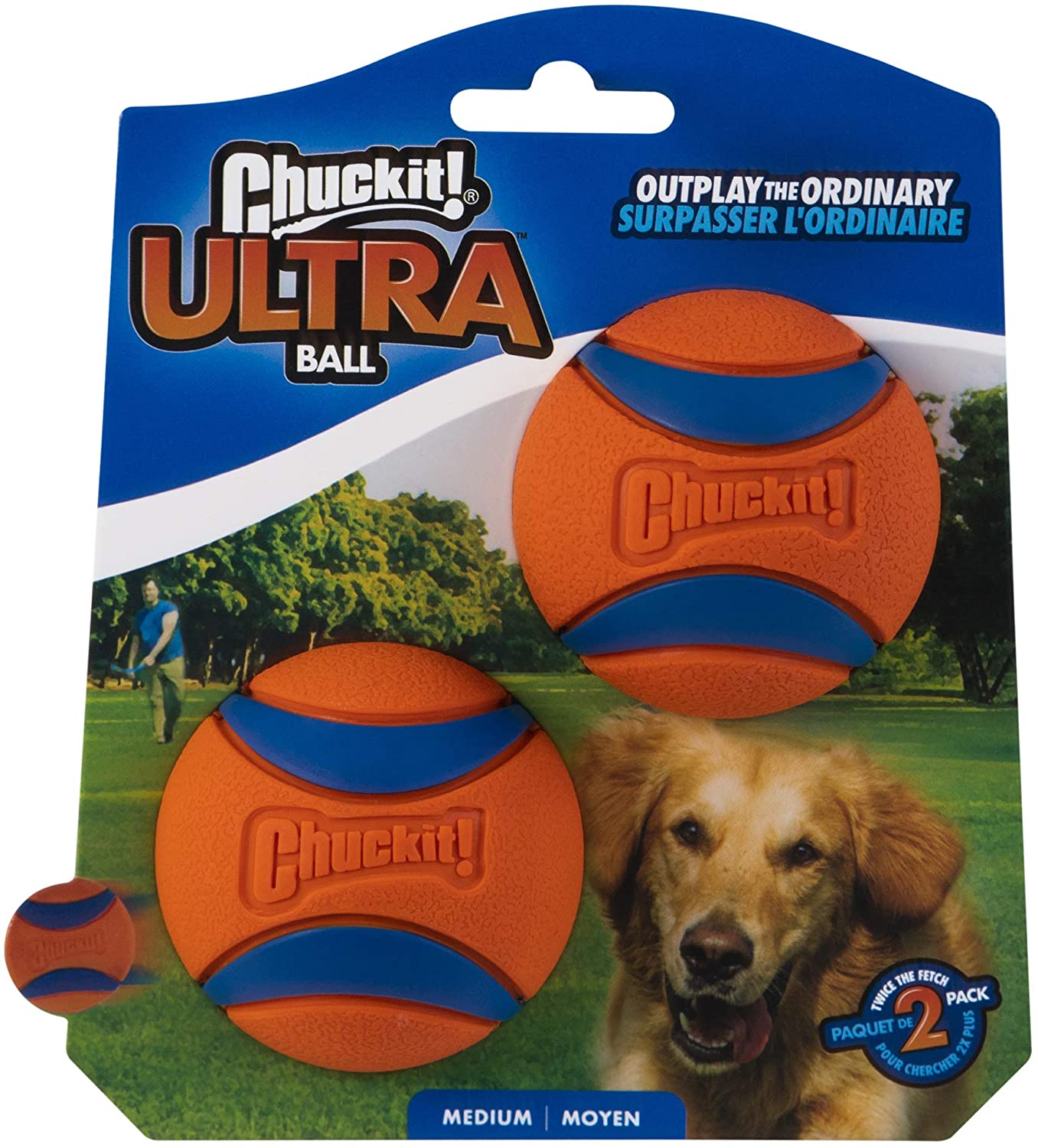 The Chuckit! Ultra dog toy ball is the ultimate fetch ball, designed to bounce higher, float better, last longer, and stand out from the rest.
Made from natural, high-bounce rubber, the Ultra Ball encourages dogs to leap and jump for more stimulating games of fetch. Featuring an extra-thick rubber exterior, these dog fetch toys are durable for long-term use, yet lightweight and buoyant as water toys for dogs.
Chuckit! Ultra Balls are strong dog toys that hold up to dirt and slobber and are easy to wipe clean.
The Chuckit! ultra dog toy ball is the ultimate fetch Ball, designed to bounce higher, float better, last longer, and stand out from the rest. Made from natural, high-bounce rubber, The ultra ball encourages dogs to leap and jump for more stimulating games of fetch. Featuring an extra-thick rubber core,
These dog fetch toys are durable for long-term use, yet lightweight and buoyant as water toys for dogs. Chuckit! Ultra balls are strong dog toys that hold up to dirt and slobber and are easy to wipe clean.
The bright orange and blue design grabs dogs' Attention in the air and can be easily spotted in tall grass or on water. Available in five sizes ranging from Small to XX-Large, dogs of all sizes can enjoy fetch with the Chuckit! ultra ball.
Two-packs are available in select sizes for pet parents to keep an extra ultra ball on hand. The Chuckit! ultra ball is compatible with the Chuckit! ball Launcher for dogs, enhancing fetch with slobber-less pickup and long-distance throws.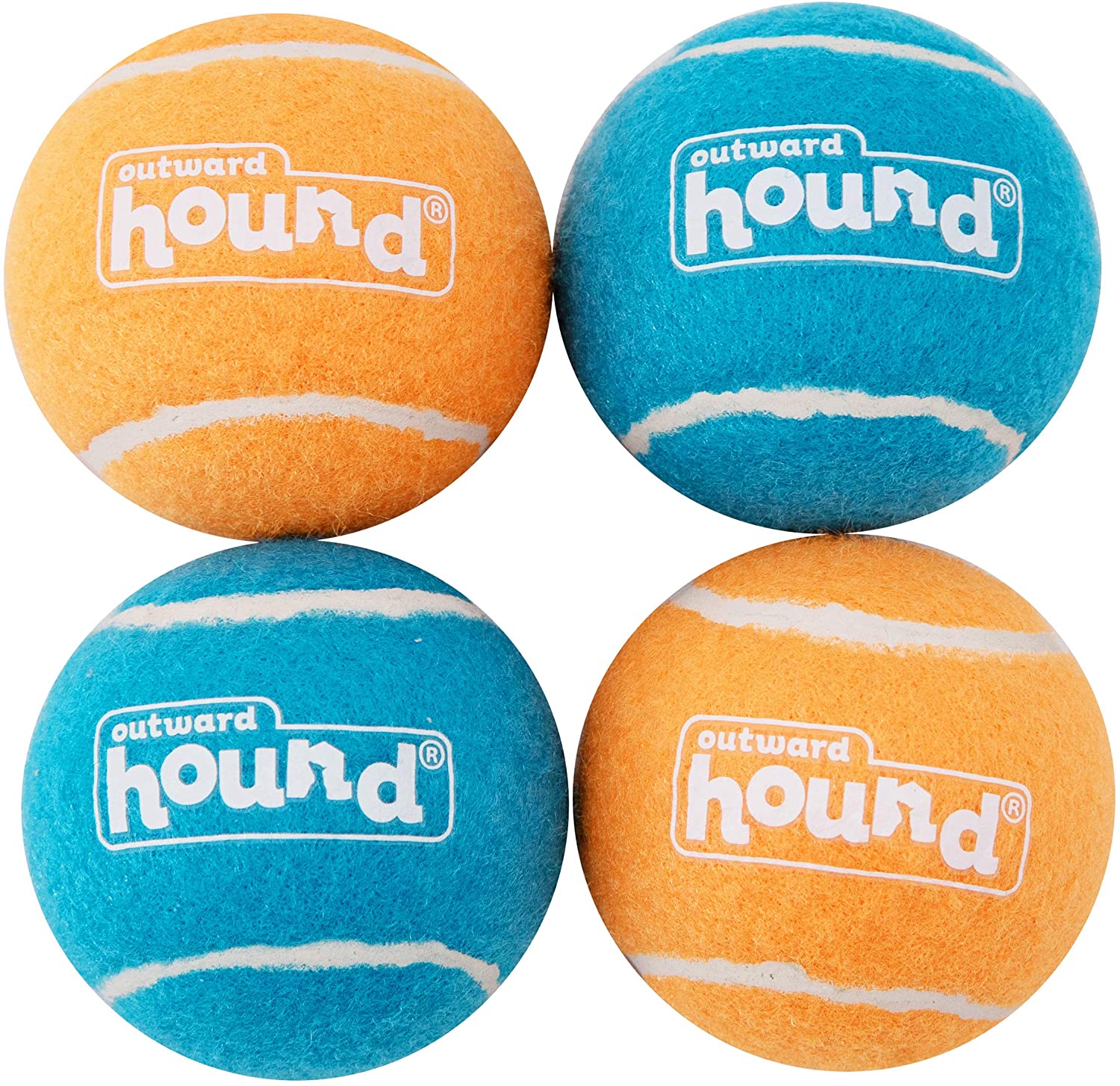 Our Outward Hound Squeaker Ballz and Tennis Ballz are a great choice for the pup that loves to play fetch. Choose from a variety of safe, bouncy, and bright Ballz!
Our dog fetch toys are made with durable materials for repeated use so your dog can chase them over and over! Simply toss & play! These toys are intended for supervised play and are not suitable for aggressive chewers.
Petstages fetch toys feature grunting, crunching, and more unique sounds dogs can't resist. The fun sounds and textures will keep them playing for hours on end. Our molded toys are intended for supervised play and are not suitable for aggressive chewers.
Our latex toys are made with firm, natural latex and a fused foam technology interior. These toys make unique noises to entice dogs, making them great for interactive toss and fetch play with your dog. Our latex toys are intended for supervised play and are not chew toys.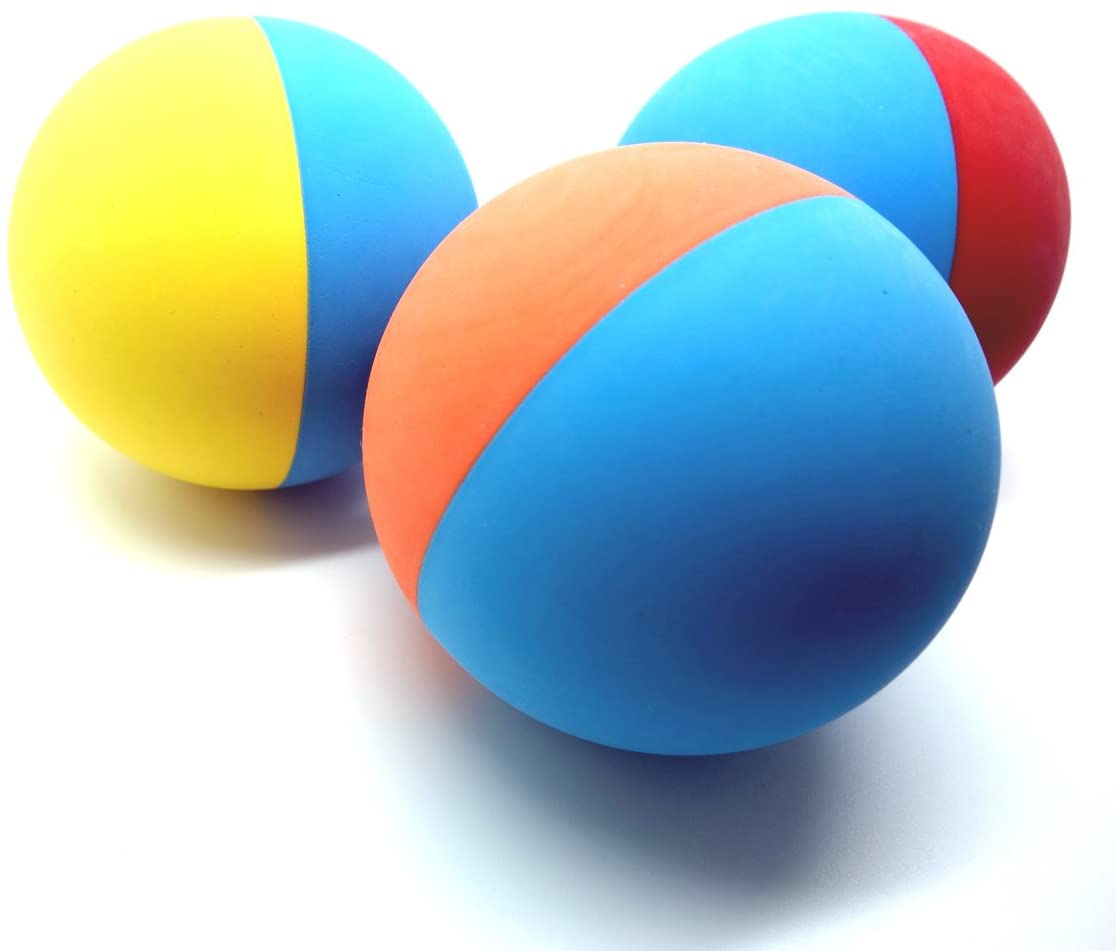 Play in the park, at the beach or just in the backyard with your dog and have the best times with these outdoor dog balls. Great for fetch or other games, these rubber dog balls can turn a boring afternoon into hours of fun for you and your pet! These dog ball toys will float in water and are easy to clean – simply rinse with warm soapy water.
Don't worry – near indestructible, these dog balls are made from heavy duty, high quality rubber which ensures that they'll withstand even the most aggressive chewers. The thickness and durability of these toys mean they'll last you and your pet well into the future.
These balls measure 6.5cm/2.5″ in diameter, the standard size for toys of this type and the same size as a tennis ball. This means they will easily fit any standard dog ball launcher that you already own.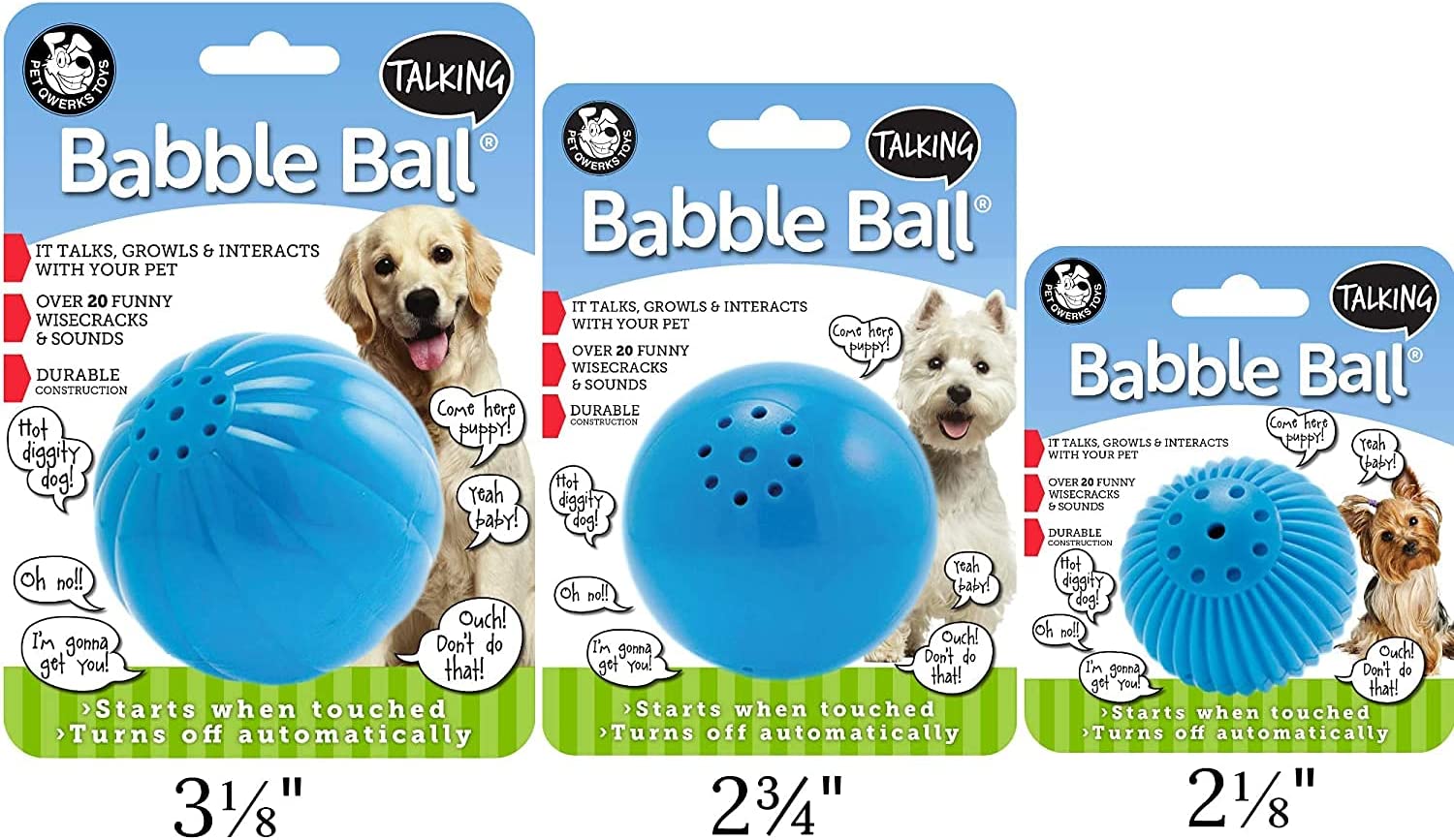 Replaceable batteries and a wipeable surface make it easy for you to keep the fun going. A variety of wisecracks keeps your dogs occupied and entertained for hours on end. Also helps occupy dogs with separation anxiety.
Where Pets Always Come First: Pet Qwerks started with interactive dog toys and we've now grown to include plush toys, rubber chew toys and an exceptional line of dog chews made in the USA.
Dipperdap Spikey Dog Balls
insum Tennis Ball for Dog Pack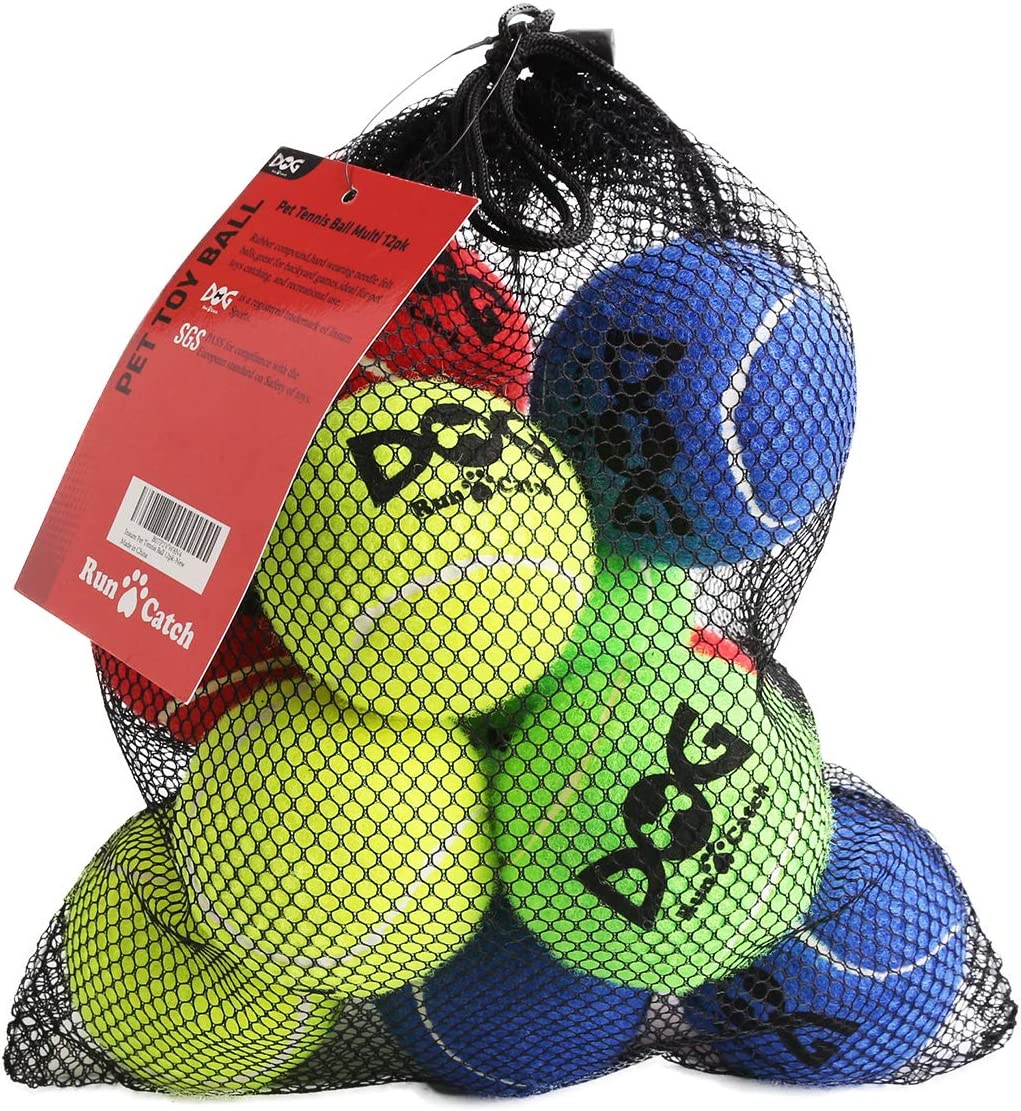 Pets are our important family member! Spending sometime playing with your dog is not only good for their healthy, but also helpful to train your dog to be smarter. Playing with your dogs, enjoy the fun and warmness they bring for you!
Brand Info.: Since its inception in 1990,Insum Sports comes to be the Chinese top tennis goods manufacturer with its commitment of offering customers with high-quality products.
Insum Pet Tennis Ball Multi 12pk-Red,Green,Ylw,Blue. SGS Non-toxic testing: PASS for compliance with the European standard on Safety and Non-toxic of toys.Your dog can find and retrieve these balls by scanning the yards,playground,street with 4 different color options.
Advantage: 100% safe for dogs with non-toxic material non-toxic . The colors are great to find in the grass. Easy to throw..easy for the dogs to find and carry back. 12 balls packed in a strong mesh bag. Just take it and play with your dog conveniently. Catch and Run:Rubber compound,hard wearing needle felt balls,great for backyard games,ideal for pet toys catching, and recreational use. Ball Size/Diameter:6.35 cm Weight:56 gram
Banfeng Giant 9.5in Dog Tennis Ball
Our dog tennis ball is made of rubber and felt material, non-toxic, non-abrasive felt is safe for your dog's teeth. With bright green color and oversized design, this ball can attracts your dog's curiosity, guides your dog to run and help increase their physical activity, promote metabolism. A great gift ball to strengthening the relationship between you and your pet, and create beautiful memories with your children, friends and family.
Our giant tennis ball is great for you training, chasing, and playing with your beloved dog in parks, grasses, yards, swimming pool and so on.
Buyer's Guide – Rocco has many of these tennis balls. What you should know before picking one for your pup.
Are tennis balls ok for my dog?
One of the major concerns about dogs and tennis balls is this abrasive effect on the surface of your dog's teeth known as enamel abrasion. Also, with excessive tennis ball chewing, the material can wear your dog's teeth down in a way that will permanently affect her oral health.
For these reasons, it's important to choose balls for dogs that are made from durable, heavy-duty materials. When it comes to tennis balls, there are special dog-friendly options available that are designed to be gentle on your pup's teeth. These balls typically have a softer surface and are made from durable materials that can withstand lots of chewing.
If you're unsure which type of ball is right for your dog, talk to your veterinarian or a pet store specialist for guidance. tennis ball, tennis balls for dogs, durable tennis balls, best tennis ball for dogs, indestructible tennis balls, tennis balls made for dogs, dog proof tennis balls, heavy duty tennis balls for dogs, teething puppies tennis ball.
Are squeaker balls better than regular tennis balls?
If you're looking for a tennis ball that will keep your dog entertained, there are a few things you'll want to keep in mind. First, consider your dog's temperament. If your dog is high energy and loves to play fetch, you'll want to look for a ball that's durable and can stand up to a lot of chewing.
On the other hand, if your dog is more mellow, you might opt for a softer ball that's easy to carry. Second, think about your own temperament. If you're someone who hates noise, steer clear of squeaky balls – they're bound to drive you crazy.
Instead, look for a tennis ball that's quiet when it's being played with. With so many different types of dog tennis balls on the market, it's easy to find one that's just right for you and your pup.
Will tennis balls stop my dog from chewing on furniture?
A tennis ball is a great way to distract your dog from gnawing on your furniture. Simply lure the dog away by using the tennis ball. The tennis ball's color and elasticity is an essential factor when it comes to such distraction tactics.
However, this will require some training and reinforcements. The best way to train your dog with a tennis ball is to start with short sessions and gradually increase the time. You can also try different types of tennis balls, such as a heavy duty tennis ball or a dog tennis ball. Ultimately, the goal is to get your dog to focus on the tennis ball instead of chewing furniture.
Are there different material inside tennis balls?
There are a lot of different types of tennis balls out there, but not all of them are equally well-suited for playing with your dog. Traditional tennis balls are too light and soft for most dogs to really enjoy playing with, and they can also be easily damaged by vigorous chewing. Dog tennis balls, on the other hand, are specifically designed to withstand heavy duty chewers.
They're usually made from a tougher rubber compound that can stand up to a lot of abuse, and they often have a textured surface that helps to clean your dog's teeth as they play. Balls designed for dogs also tend to be a bit larger than traditional tennis balls, making them easier for your pet to grip in their mouth. If you're looking for a tennis ball that both you and your dog will enjoy playing with, opt for a durable dog tennis ball that's built to last.  Here are a few internal parts of a dog tennis ball.
Treats
This one is obviously going to be a quick favorite. After all, what dog wouldn't want to ravage a ball to get to the goods? You can stuff certain ones with tasty treats and keep them occupied for hours. Well, at least for minutes at a time!
Squeakers
This is probably the most popular internal component. Nothing rouses excitement in a canine more than hearing an old-fashioned squeak when they bite down. They may not last long before they pop, but they're stimulating while they last.
Bells
While less popular, bells can be fun, too. They may not be the best choice for a dog who could easily dismember it. Eating a small, jingly noisemaker could result in a visit to the vet.
Lights
Flashing lights of different colors is sure to get your pup in the mood to play. Bright strobes with a noisemaker may be even more entertaining for them. Some of these will require batteries, so keep that in mind if your pet tries to eat everything.